170 calories in a Hostess chocolate cupcake is a reasonable amount for a snack in a standard daily diet of 2000 calories, but what exactly is in these calories? Let's break it down.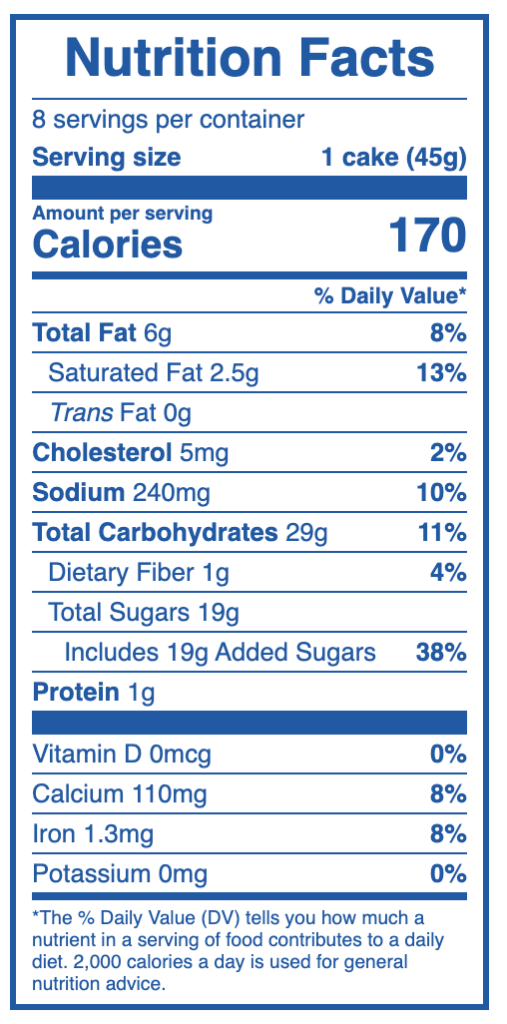 Hostess Cupcake Nutrition Facts
Total fat 6g
Saturated Fat 2.5g
Trans Fat 0g
Cholesterol 5mg
Sodium 240mg
Total Carbohydrates 29g
Dietary Fiber 1g
Total Sugars 19g
Includes 19g Added Sugars
Protein 1g
Vitamin D 0mcg
Calcium 110mcg
Iron 1.3mg
Potassium 0mg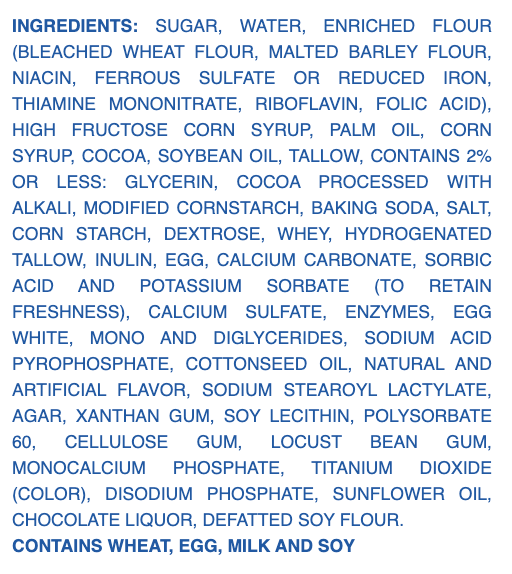 Hostess Cupcake Ingredients
The Food and Drug Administration (FDA) requires that ingredients be listed in the order of predominance, meaning ingredients used the most down to ingredients used the least.
The maker doesn't have to give away the exact proportions of their secret recipe but consumers may want to know what is in any particular food product in case of food allergies, as part of a weight loss effort or for general nutrition advice.
Here are the ingredients of Hostess chocolate cupcakes:
Sugar – common sugar is a disaccharide composed of glucose and fructose.
Water
Enriched Flour (bleached wheat flour, malted barley flour, niacin, ferrous sulfate or reduced iron, thiamine mononitrate, riboflavin, folic acid) – the bran and germ is removed from regular flour, so iron and B vitamins are added back.
High fructose corn syrup – made from corn starch, some proportion of glucose has been enzymatically converted to fructose.
Palm oil – a vegetable oil derived from the palm tree. Palm oil contains about the same amount of saturated fat as butter.
Corn syrup – also from corn starch, corn syrup is 100% glucose.
Cocoa – chocolate!
Soybean oil – a vegetable oil derived from the soybean plant.
Tallow – a form of rendered animal fat.
(2% or less):
glycerin – used to retain moisture
cocoa processed with alkalai
modified cornstarch – used for texture
baking soda – to help the batter rise when baked
salt – also known as sodium chloride
corn starch – a carbohydrate extracted from the endosperm of corn
dextrose – a simple sugar made from corn and chemically identical to glucose
whey – a protein found in milk
hydrogenated tallow
inulin – a type of fiber found in certain plant foods, most commonly chicory
egg
calcium carbonate – contains calcium and acts as a preservative
sorbic acid and potassium sorbate (to retain freshness)
calcium sulfate – another source of calcium
enzymes
egg whites
mono and diglycerides
sodium acid pyrophosphate – used to adjust the pH, maintain color and improve water-holding capacity
cottonseed oil
natural and artificial flavors
sodium stearoyl lactylate – adds softness and extends the shelf life of dough
agar – a natural vegetable gelatin
xanthan gum – a food stabilizer and thickener
soy lecithin – a natural emulsifier used as an antioxidant and flavor protector
polysorbate 60 – an emulsifier
cellulose gum – insoluble plant fiber used to improve texture and mouthfeel
locust bean gum – natural plant-based fiber used as a thickener
monocalcium phosphate – helps the batter rise without yeast
titanium dioxide – for color
disodium phosphate – used to thicken, stabilize and maintain moisture
sunflower oil – vegetable oil derived from sunflower seeds
chocolate liquor – a semi-liquid form of pure chocolate
defatted soy flour – prevents food from getting stale
Allergy warning: these cupcakes contain wheat, egg, milk and soy.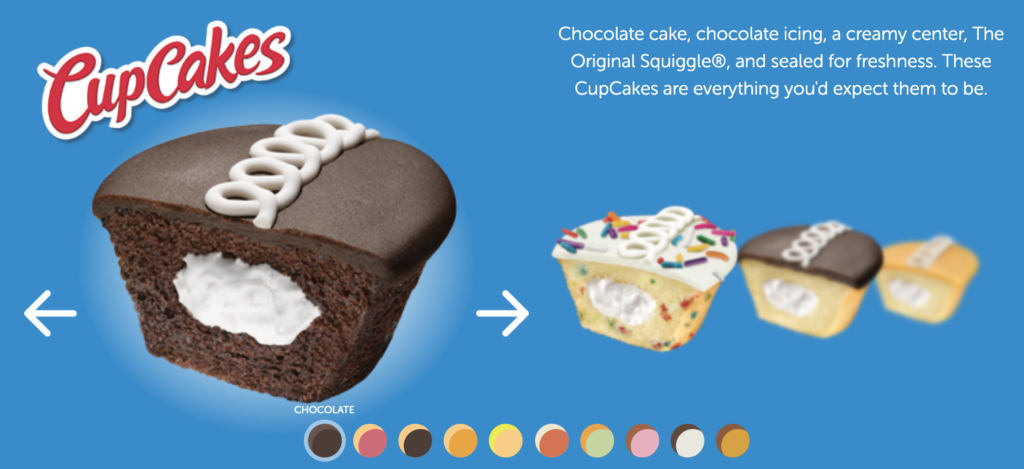 Choosing Your Hostess Cupcake
Hostess has a big selection of cupcakes, so much so that they have an animated cupcake selector so you can easily choose from all the cupcake possibilities.