Compound herb butter is a flavorful addition to any dish, and it's easy to make at home! This recipe will show you how to create your own compound butter using fresh herbs. You can use any combination of herbs that you like, but we recommend using rosemary, thyme, and parsley for a classic flavor profile.
Once you've made your compound butter, you can use it in a variety of ways. Spread it on bread for an easy appetizer, add it to roasted vegetables for a boost of flavor, or use it as a finishing touch for soup or pasta dishes. However you choose to use it, we guarantee that you'll love the flavor of this homemade herb butter!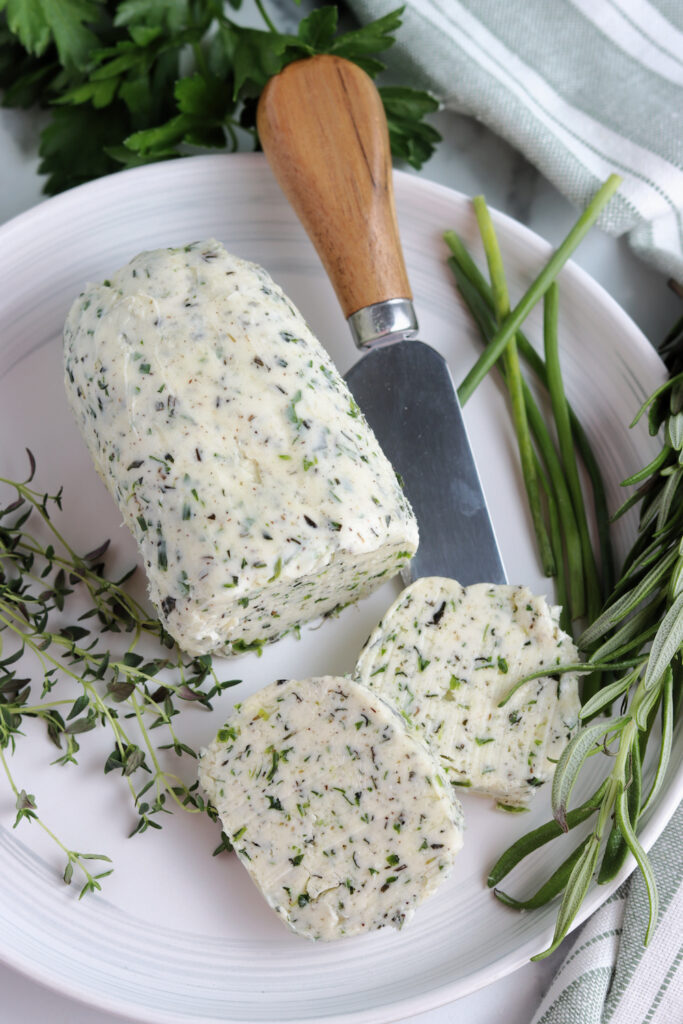 What is herb butter?
Herb butter is a type of compound butter, which is a mixture of butter and other ingredients. The other ingredients can be anything from herbs and spices to fruits and nuts.
Compound butter is a versatile ingredient that can be used in sweet or savory dishes. It's especially popular in French cooking, where it's often used to finish sauces or as a spread for bread.
The benefits of making your own herb butter
There are many benefits to making your own herb butter at home.
It's a great way to use up fresh herbs that you may have leftover from other recipes.
It's an easy way to add flavor to dishes without using a lot of extra ingredients.
It's a great way to impress your friends and family with your culinary skills!
How to make herb butter
Making herb butter is a simple process that anyone can do at home. All you need is some fresh herbs, butter, and a food processor (or a blender). Simply combine the ingredients in a food processor and blend until the mixture is smooth.
History/Origin of Herb Butter
Compound butter is a type of flavored butter that originated in France. It is made by combining butter with other ingredients, such as herbs, spices, or fruit. The resulting mixture is used as a spread or condiment in various dishes.
Compound butter was traditionally made by blending equal parts softened butter and lard. Today, however, butter is the only ingredient used to make this type of flavored butter. The popularity of compound butter has grown in recent years, as it is a versatile ingredient that can be used in both sweet and savory dishes.
Ingredients
1 cup (2 sticks) unsalted butter, softened
4 tablespoons fresh herbs, chopped (such as fresh parsley, chives, thyme, rosemary)
1 teaspoon salt
½ teaspoon ground black pepper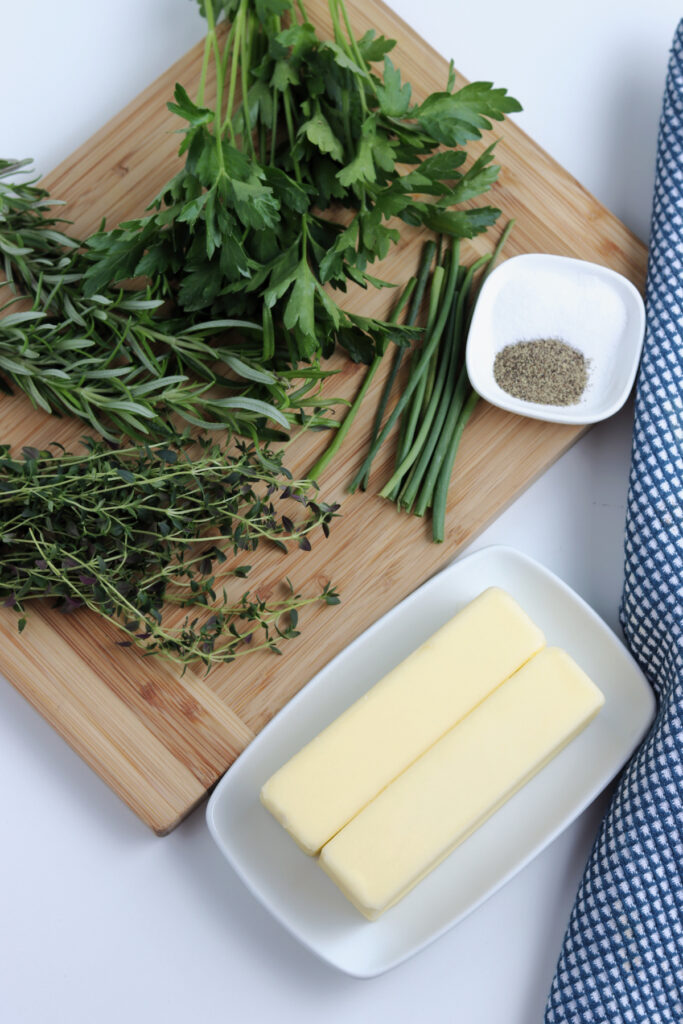 Variations
Spice it up with fresh garlic, minced and mixed with the herbs or make garlic butter without the herbs.
If fresh herbs aren't handy, you can make compound butter with dried herbs, garlic powder, etc.
This basic herb butter recipe can be used for different flavor combinations – use your favorites!
Pro tip – balance flavor the Salt Fat Acid Heat by adding a half teaspoon of lemon juice or a teaspoon of lemon zest
Equipment
cutting board & knife
mixing bowl, hand mixer, stand mixer or food processor
optional: butter mold
parchment paper or a piece of wax paper
Butter molds:
This is a pretty standard shaped butter mold with 1oz marks for easy measuring.
You can use any food-grade silicone mold, so of course my favorite way is to make these Texas-shaped butter pats!
Instructions
Mix all ingredients together in a large bowl until well blended
Place herbed butter on piece on parchment paper, cover and roll into log shape
Twist ends of parchment paper
Chill in refrigerator at least 24 hours before serving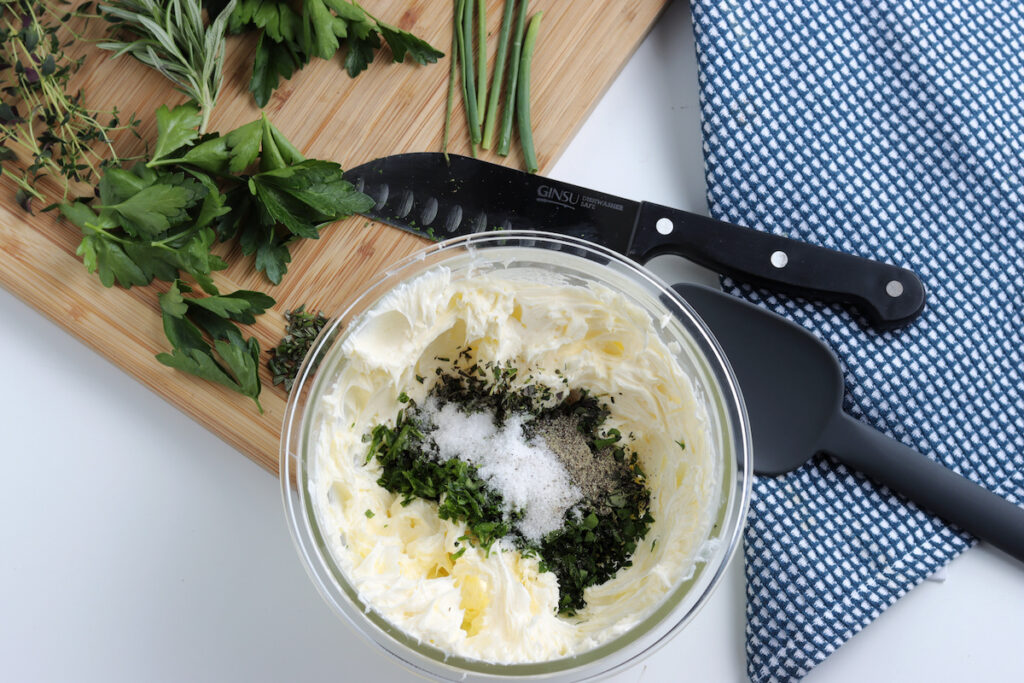 Cooking Tips
Room temperature butter is easier to mix!
Using kosher salt adds an interesting texture to the fresh herb butter
Serving
Serve on a butter dish, or create a butter board for a special occasion.
Goes well with
Grilled or baked chicken
Grilled, roasted or steamed fresh vegetables like sweet corn, green beans or sweet potatoes
Dinner rolls
Garlic bread
Many of your favorite recipes – use your imagination!
Storage Instructions
Dairy products like herbal butters should always be refrigerated. Transfer the butter to an airtight container and store it in the refrigerator for up to two weeks.
You May Also Like
Bragging Rights
We would love to see what you did with this recipe!
Comment below or share your photo @flavorportal / #flavorportal
Ingredients
1 cup (2 sticks) unsalted butter, softened
4 tablespoons fresh herbs, chopped (such as parsley, chives, thyme, rosemary)
1 teaspoon salt
½ teaspoon ground black pepper
Instructions
Mix all ingredients together in a large bowl until well blended
Place butter on parchment paper, cover and roll into log
Twist ends of parchment paper
Chill in refrigerator at least 24 hours before serving