Looking for a fun and creative way to show off your Thanksgiving spread this year? Why not try a Thanksgiving charcuterie board in the shape of a turkey! This unique arrangement of meats, cheeses, and vegetables will be sure to impress your guests. Let's get creative and have a Happy Thanksgiving!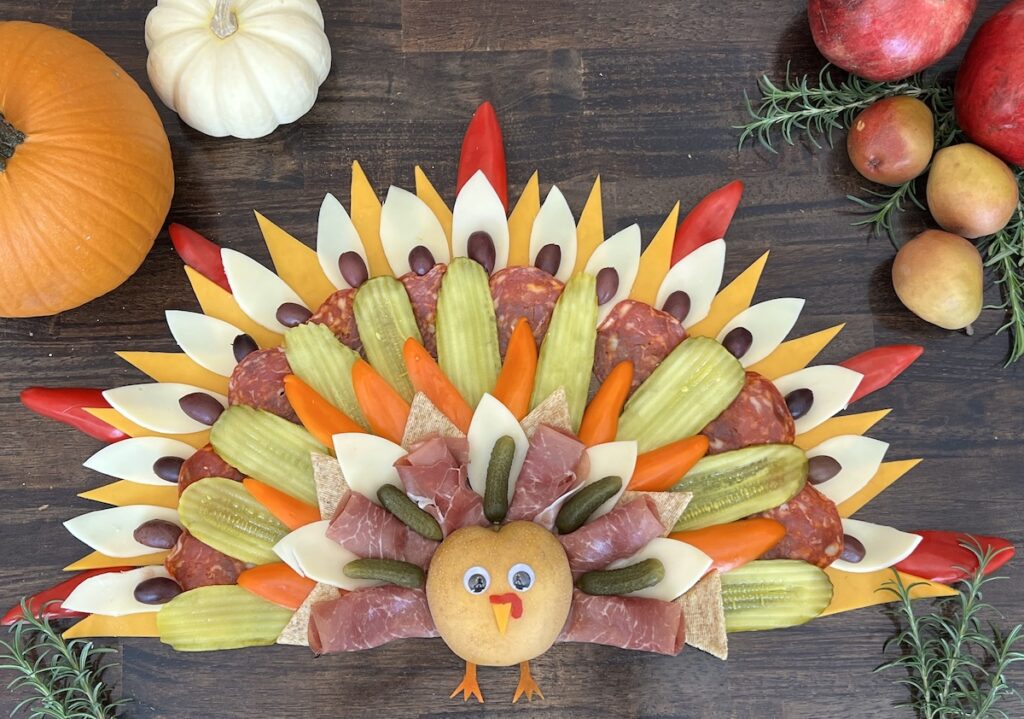 What is a charcuterie board?
A charcuterie board is a type of appetizer that typically consists of a variety of meats, cheeses, and vegetables served on a wooden platter. The food is typically eaten using toothpicks or as finger food.
Also known as a cheese board, the traditional charcuterie board started as a way to serve cured meat and different types of cheeses, from hard cheese to soft cheeses to a group of people at once. Typically served at room temperature, it was expanded to include slices of meats and other cold savory treats like olives, pickles, and pickled peppers, or sweeter items like fresh fruits or seasonal produce with whatever is fresh.
Due to its rising popularity, you can also find ready-made charcuterie boards at local grocery stores.
How to make your own charcuterie board.
First you'll need a big board to hold all the delicious food.
Next, decide what you'd like to put on it.
Popular foods for a fall charcuterie board theme
cured delicious meats of any kind, including prosciutto, salamis, etc.
slices of cheese from any of your favorite cheeses, goat cheese,
dried fruits
pomegranate seeds
red grapes
apple slices
pear slices
small bowl with cranberry sauce for dipping
You can make a charcuterie board for the dessert table too! For a thanksgiving version be sure to include
candy corn
cookies
crackers
dips or frosting
Pro Tip: prepare your Thanksgiving board a day in advance, cover in plastic wrap and keep in the refrigerator until you're ready to serve it.
A holiday charcuterie board is the perfect addition to your Thanksgiving feast
It's the perfect appetizer for Thanksgiving dinner because your guests can help themselves while they visit. Its a great option you can prepare in advance and serve as an easy Thanksgiving appetizer or keep them busy before they sit down to the scrumptious Thanksgiving dinner your hungry guests have been drooling over for hours while they smell the turkey roasting in the oven.
It's easy to make a gorgeous Thanksgiving charcuterie board
This holiday season try your hand at creating a beautiful charcuterie board filled with your favorite treats! There's no wrong way to do it so just have fun – we sure did with our turkey charcuterie board!
Looking for more Thanksgiving charcuterie board ideas? Get inspired by over 40 gorgeous fall-themed charcuterie boards! Or try a Thanksgiving dessert board instead!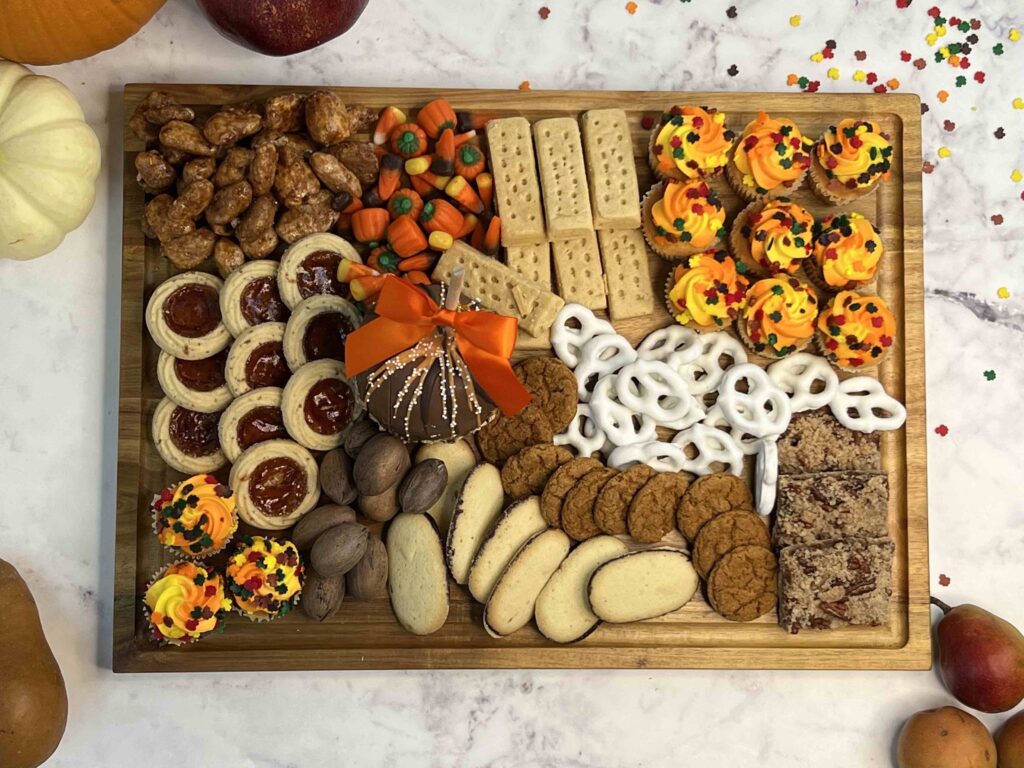 What kind of board will you make?